Phone: (651)483-0553
The John Stoll family is packed with Champion racers and Foundation breeders going back to Gaby's "Wittenbuik", Piet Verbarth's "De 46" one of the best breeding males in the history of the sport bred by De Klak himself, and Original Janssen Brothers Arendonk Birds. Both Thunder & Maria go back to John Stoll's 1st Natl Ace Pigeon WHZB 1988. We are the only loft in the USA breeding from two direct proven John Stoll Import Champions "Thunder", son of the "SuperBreeding171" and grandson of the "Houdeng Doffer" and "Maria" daughter of the "Houdeng Doffer" Foundation Cock for John Stoll. The few people who own any children out of these two birds don't sell them because of what they have done to there loft, a family based on Performance and the genes to pass the will to win on to there offspring. In the years to come people all around the USA will be talking all about this pair and what there children and grandchildren have done to there lofts.
Consistant - Proven - Fast - Beautiful - Tough
In 2014 I sold most of the direct Thunder & Maria children, the reason for that is most of them were bred in 2008 and I didn't want to have my whole breeding loft go infertile around the same time so I added the best raced children off the directs that I had at the time to my breeding loft. All of them are crossed with our Best Ludo Claessens down from Grizzly, Tom Cat, & Miss Katoog & all of them are top Ace pigeons, Champion Birds, & or club/concourse winners. In 2014 our 2nd & 3rd Ace Middle Dist Twin City Concourse was from the Ludo Claessens x John Stoll, our 1st Champion Bird Old Bird Twin City Concourse '15 was from our Ludo Claessens x John Stoll and now 2016 we won the biggest old bird race in the USA the Topeka Midwest Classic from 442 miles vs 3,619b Ludo Claessens - John Stoll - Alfons Klaas.
Thunder & Maria is probably the only pair to have grandkids win the Twin City Concoarse 300 mile Young Bird race 5 consecutive years, 4 of those years they were crossed to our Ludo Claessens.
2nd 300mi Twin City Concourse '10
1st 300mi Twin City Concourse '11 Cher Lee
1st 300mi Twin City Concourse '12
1st 300mi Twin City Concoarse '13
1st 300mi Twin City Concourse '14
*1st 300mi Twin City Concourse '15 Shang Vang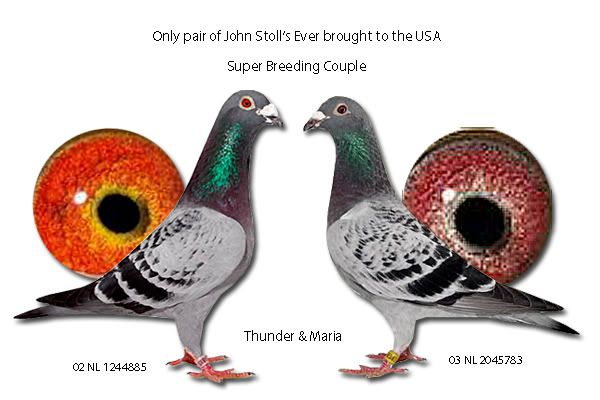 THE ONE AND ONLY JOHN STOLL IMPORT PAIR IN THE USA!
A true Super Breeding Couple
"Thunder & Maria"
On July 30 2011 we released Thunder with hopes he would stay even though he wasn't fertile any more I couldn't cull him. He was one of the biggest impact pigeons we have ever owned. He flew out of my dad's hands and he was gone. His memory will live on in our minds and through his children and grandchildren.
This pair is responsible for winners all over the USA. In 2010 alone grandchildren won over 14- 1st (not including eq. 1st).
1st Champion Bird Twin City Concourse '15
1st Champion Bird Twin City Concourse '14
1st Ace Young Bird all Minnesota '10
1st Champion Bird Twin City Concourse '10
1st Champion Bird STP Club '11 B
1st Champion Bird STP Club '11 A
1st Champion Bird STP Club '09
1st Ace Young Bird STP Club '08
1st Champion Bird STP Club '08
1st Champion Bird STP Club '07
2nd Ace YB all Minneosta '14
2nd Champion Bird Twin City Concourse '14
2nd Ace Middle Distance Twin City Concourse '14
2nd Champion Bird Twin City Concourse '14
2nd Ace Young Bird Twin City Concourse '12
3rd Ace Young Bird Twin City Concourse '13
3rd Ace Young Bird Twin City Concourse '11
3rd Ace Young Bird Heartland Federation '10
3rd Ace Young Bird all Minnesota '10
4th Ace Young Bird all Minnesota '10
4th Ace Young Bird Heartland Federation '10
6th Ace Young Bird all Minnesota '10
6th Ace Young Bird Heartland Federation '09
8th Ace Young Bird all Minnesota '10
14th Ace Young Bird all Minnesota '10
16th Ace Young Bird all Minnesota '10
2nd Ace Pigeon World Ace Challenge '07 Sis Thunder
2nd Ace Pigeon World Ace Challenge '08 Sis Thunder
8th Ace Pigeon World Ace Challenge '08 Sis Thunder
45th Ace Pigeon World Ace Challenge '09 Bro Thunder
25th Ace Pigeon World Ace Challenge '10 Gr. dam sis Thunder
Eq. 1st Colorado Gold Rush 150 mile bred from Hekken Style & De Slater line bred gr kid Thunder & Maria
2nd Overall Ace Vegas Late Hatch Classic '09 Bred from a son of Carlia daughter of Thunder & Maria
5th Overall Ace Mercedes Classic '11 Bred from a granddaughter of Carlia daughter of Thunder & Maria
5th Capitol City Classic '11 Granddaughter of Thunder & Miss Katoog
10th 350mi Fall Classic One Loft Race '11 Grandson of Thunder & Maria
24th, 56th & 109th AU Convention '08 Gr children of Thunder & Maria
Eq. 1st 350 mile Flying Aces One Loft Race '12 Granddaughter of Super Stoll
7th 250 miles ATOL Carter Maylotte OLR '12 Great grandson of Thunder & Maria
1st 350 mile Fall Classic '12 won $3500 Great gr gr grandkid of "Carlia" daughter Thunder & Maria
20th 300 mile Gulf Coast Classic vs 2,152 birds '11 won $1500 - James Doyle Gr gr daughter of Thunder
13th Overall Ace WAC '12 (4th A Race/11th C Race) won $7,000 Gr gr mother Carlia daughter Thunder & Maria
7th Avg Speed Flying Aces OLR '12
23rd Avg Speed Fall Classic OLR '12
Eq 1st 100 mile Fall Classic OLR '13
Eq 1st 150 mile Fall Classic OLR '13
Eq 1st 150 mile Flying Aces OLR '13
Eq 1st 250 mile Flying Aces OLR '13
23rd Average Speed North American Breeders Cup '13
5th Grand Avg. North American Breeders Cup '13
24th Average Speed Fall Classic '13
6th Grand Avg & 8th Avg Speed NABC '15
Eq 1st 300mi Lucky 17 OLR '15 - Dan Feltenstein
Eq 1st 350mi Flying Aces OLR '15 - Dan Feltenstein
1st Ace Sprint NABC '15 - Terry Lee
7th 350mi United Bond Race '15 - LHTL
********************************************************************

#1 Breeding son of "Thunder" & "Sophia" his gr daughter! De Favorite is the new Thunder!!

Sire to:

1st Ace YB all Minnesota '10

1st Champion Bird Twin City Concourse '10

1st Champion Bird Twin City Concourse '15

2nd Champion Bird MPC '11

7th Ace YB Twin City Concourse '13

12th Ace YB Twin City Concourse '13

24th Avg. Speed Fall Classic OLR '13

Grandsire to:

1st Champion Bird MPC '13

2nd Ace Middle Dist. Twin City Concourse '14

2nd Champion Bird Twin City Concourse '14

3rd Ace YB Twin City Concourse '13

1st 400mi Section vs 519b/3rd 422mi Topeka Midwest Classic MN vs 683b '12 - Liab Family Loft

1st 435mi Twin City Concourse '16 - 58min ahead - Dale Golla/Jay Tao

5th Champion Bird Twin City Concourse '14

9th Champion Bird Twin City Concourse '15

12th Ace YB Twin City Concourse '14

13th Ace YB Twin City Concourse '12

Direct daughter of "Thunder" & "Maria".

Dam to:

1st 111mi Twin City Conc vs 175 birds

1st 295mi Twin City Conc vs 115 birds Cher Lee

1st 113mi MPC vs 255b '17

18th Ace YB Twin City Concourse '10

Gr dam to:

1st Champion Bird Twin City Concourse Classic '16

1st 115 miles vs 102 birds Doug Loahr

eq 1st 350 miles Flying Aces OLR '12 Joe Stacey

7th Avg Speed Flying Aces OLR '12 - Joe Stacey

21st 300 mile Gold Band Futurity '13

Direct daughter of "Thunder" & "Maria".

Dam to:

2nd 300mi Twin City Concourse '10

1st Champion Bird STP '09

4th Ace YB all Minnesota '10

16th Ace YB all Minnesota '10

Gr dam to:

1st 163mi Twin City Concourse '14

Direct son of "De Favorite"& "Golden Witte 59".
(Grandson of Thunder, Sophia, Tom Cat & Miss Katoog)

"Favorite Ace" won:

1st Ace Young Bird all Minnesota '10 vs over 100 Lofts

1st Champion Bird Twin City Concourse '10 vs 55 Lofts

2nd Champion Old Bird MPC '11

Sire to:

1st & 2nd eq 1st 303 mile Twin City Concourse with a 10.33 min lead with headwinds

1st 106mi vs 188b MPC 2 minutes ahead '16

1st 113 miles MPC Classic '15

4th 113mi vs 177b MPC '14

9th Champion Bird Twin City Concourse '15

13th Ace Young Bird Twin City Concourse '12

Gr sire to:

1st Champion Bird MPC '13

1st Champion Bird MPC '14

1st 435mi Twin City Concourse vs 173b 54 minutes ahead '16

*1st 301 miles Twin City Concourse '13

2x 1st MPC 236mi., 3rd 221mi

2nd Ace Middle Dist. Twin City Concourse '14

2nd Champion Bird Twin City Concourse '14

3rd Ace Young Bird Twin City Concourse '13

5th Champion Bird Twin City Concourse '14

12th Ace Young Bird Twin City Concourse '14

AU 14 MPC 512: *1st 106 miles vs 712 birds Twin City Concourse '14
In 2016 "De Favorite Ace" is being bred to "Thunder Bolt" who is a daughter of "Day's of Thunder" & "Miss Bolt" (2nd Ace YB x 1st Ace YB). "Thunder Bolt" is a half sister to "Young Supercrack" who won 2nd Ace Middle Dist.

Direct son of "Brock" & "Young Miss Katoog".

(Grandson of Thunder, Maria, Tom Cat & Miss Katoog)




2nd Ace Young Bird Twin City Concourse '12

5th Champion Bird Twin City Concourse '12

1st 157 miles Twin City Concourse vs 591 birds 5min ahead

*1st 303 miles Twin City Concourse vs 447 birds 10min ahead




Full bro to:

3rd Ace YB Twin City Concourse '11

Sire to:

2x 1st 235mi MPC '14

2nd Ace Middle Dist. Twin City Concourse '14

2nd Champion Twin City Concourse '14

23rd Overall Avg. Speed & 5th Grand Avg NABC '13.




Gr sire to:

1st 442 miles Topeka Midwest Natl Classic vs 3,619b '16 2min ahead

1st 435mi Twin City Concourse vs 173b '16 54 minutes ahead

1st 300mi MPC Classic
*1st 300mi MPC
*1st MPC Classic
34th 442mi Twin City Concourse vs 211b '16

8th Avg. Speed & 6th Grand Avg - $ winner at 300 & 355mi .NABC '15




2nd Ace Middle Distance Twin City Concourse '14

2nd Champion Bird Twin City Concourse '14

2x 1st MPC 235mi




Sire to

1st 300mi MPC Classic '16

*1st 300mi MPC vs 263b

*1st 100mi MPC Classic '16




Gr sire to:

4th 137mi Twin City Concourse '16

"Day's of Thunder" won:

2nd Ace YB Twin City Concourse '12

5th Champion Bird Twin City Concourse '12.

"Mission Impossible" won:

1st 301 miles Twin City Concourse '12 10min ahead of next loft & over 1hr ahead of the closest loft to me.




Direct daughter of "De Favorite" & "Golden Witte 59".

(Granddaughter of Thunder, Sophia, Tom Cat & Miss Katoog)

5th Champion Bird Twin City Concourse '13 vs 50 Lofts

7th Ace Young Bird Twin City Concoure '13 vs 51 Lofts

Favorite Witte is dam to:

*1st 300 miles Twin City Concourse '14

1st 188 miles MPC vs 338b '16 15 MPH Headwinds 25 MPH Gusts

3rd 150mi SOJ '15

5th 188 miles MPC vs 80b '16 15 MPH Headwinds 25 MPH Gusts

Full sister to "Favorite Ace":

1st Ace Young Bird all Minneota '10 vs 100+ Lofts

1st Champion Bird Twin City Concourse '10 vs 55 Lofts

2nd Champion Old Bird MPC '11

Direct son of "Thunder Boy" & "Golden Witte 59".

(Grandson of Thunder, Maria, Tom Cat & Miss Katoog)

Half brother bred:

1st Champion Bird Twin City Concourse '14 for LHTL Lofts

Half bro to:

1st Ace YB all Minnesota '10

1st Champion Bird Twin City Concourse '10

1st Champion Bird Twin City Concourse '15

Direct daughter of "De Favorite" & "Golden Witte 59".

(Granddaughter of Thunder, Sophia, Tom Cat & Miss Katoog)

"Favorite Girl" won:

1st Champion Old Bird Twin City Concourse '15

Sister to:

1st Champion Bird Twin City Concourse '10

1st Ace YB all Minnesota '10

3rd Ace MD Twin City Concourse '14

7th Ace YB Twin City Concourse '13

12th Ace YB Twin City Concourse '13

24th Avg Speed Fall Classic OLR '13

1st 303mi Twin City Concourse '12 10min ahead

Direct daughter of "Day's of Thunder" & "Mission Impossible".

Dam to:

1st Champion Bird MPC '13

2nd Ace Middle Dist. Twin City Concourse '14

2nd Champion Bird Twin City Concourse '14

3rd Ace YB Twin City Concourse '13

*1st 301 miles Twin City Concourse '13 2min ahead

2x 1st MPC 236mi., 3rd 221mi

20th Ace YB Twin City Concourse '14

46th Ace YB Twin City Concourse '14

Gr dam to:

1st 435mi Twin City Concourse vs 173b 54 minutes ahead

1st 300mi MPC Classic '16

*1st 300mi MPC '16

Dam to:

"Midwest Nikki"

1st 442mi Topeka Midwest Natl Classic vs 3,619b '16 2min ahead

8th 300 mi NABC 22 day birds '15

9th 355mi 23 day birds NABC '15

18th Champion Bird Twin City Concourse '16 - Classic

19th Champion Bird Twin City Concourse '16 - Open




"

Triple Threat"

8th Overall Avg. Speed NABC & 6th Grand Avg. '15

"157"
34th 442mi Twin City Concourse '16

Gr dam to:

1st 300mi MPC Classic '16

*1st 300mi MPC vs 263b

*1st 100mi MPC Classic '16

Direct daughter of "Day's of Thunder" & "Miss Bolt".

Day's of Thunder won:

2nd Ace YB Twin City Concourse '12.

Miss Bolt won:

1st Ace & 1st Champion Bird Twin City Concourse '12.

Half sister to"Young Supercrack" who won:

2x 1st 235mi MPC

2nd Ace Middle Dist Twin City Concourse '14

2nd Champion Bird Twin City Concourse '14

Direct daughter of 4x 1st Super Stoll & Lady Panther.

Sister to:

1st 300mi Twin City Concourse '11

1st 163mi Twin City Concourse '14

1st 145mi Twin City Concourse '13

1st 100mi Club

1st 115mi Club

Nestmate to Young Supercrack

Daughter of Day's of Thunder & Mission Impossible

Photo Coming Soon!

"Crazy Wings"
AU 16 BOURGOIN 176
Direct son of "De Favorite" & "Golden Witte 59".

Full brother to:
"De Favorite Ace"
1st Ace Young Bird Twin City Concourse '10
1st Champion Bird Twin City Concourse '10
2nd Champion Old Bird MPC '11

"Favorite Girl"
1st Champion Old Bird Twin City Concourse '15

"Favorite Witte"
5th Champion Bird Twin City Concourse '13
7th Ace YB Twin City Concourse '13

"Golden Boy"
3rd Ace Middle Distance Twin City Concourse '14




6th Grand Avg & 8th Avg Speed NABC '15

Dam to:

1st 300mi MPC Classic '16

*1st 300mi MPC vs 263b

*1st 100mi MPC Classic '16

Direct daughter of "Dark Horse Jr" & "Thunder Bolt".

Full sister to:

1st 442 miles Topeka Midwest Natl Classic vs 3,619b '16

Dark Horse Jr is bro to:

2nd Grand Avg SAMDR & 4th Final '15

Day's of Thunder won:

1st 157mi Twin City Concourse '12 5min ahead

*1st 303mi Twin City Concourse '12 10min ahead

2nd Ace YB Twin City Concourse '12.

Miss Bolt won:

1st Ace YB & 1st Champion Bird Twin City Concourse '12.

For 2016 "Triple Threat" is being mated to her 2nd Ace MD & 2nd Champion Bird uncle "Young Supercrack".

Photo Coming Soon!

9th 303mi Twin City Concourse '12
Direct daughter of Brock & Young Miss Katoog
Full sister to:

2nd Ace Young Bird Twin City Concourse '12

3rd Ace Young Bird Twin City Concourse '11




Two siblings bred:

2nd Ace MD Twin City Concourse '14

2nd Ace YB Twin City Concourse '16

Direct daughter of Dark Horse Jr & Thunder Bolt
1st 442mi Topeka Midwest Natl Classic vs 3,619b '16
8th 303mi Twin City Concourse vs 101b '16
10th 241mi Twin City Concourse vs 451b '16
Full sister to:
"Triple Threat"
6th Grand Avg/8th Avg Speed NABC '15
Dam to 3x 1st '16
Half sister to:
2nd Avg Speed & 3rd 350mi Fall Classic OLR '16
*1st 350mi Flying Aces OLR '16
2x 1st, 1x 2nd MPC '15
2x 1st, 1x 2nd MPC '16




of Thunder & gr daughter Sophia, & Maria.

De Favorite is the best breeding son of Thunder!

De Favorite is sire & gr sire to:

1st Ace Young Bird all Minnesota '10

1st Champion Bird Twin City Concourse '10

1st Champion Bird Twin City Concourse '15

1st Champion Bird MPC '14

1st Champion Bird MPC '13

1st or eq 1st 300mi Twin City Concourse '12/'13/'14

2nd Ace Middel Dist Twin City Concourse '14

3rd Ace Young Bird Twin City Concourse '13

Little Maria is dam to:

1st 300mi Twin City Concourse '11

1st 111mi Twin City Concourse '10

18th Ace Young Bird Twin City Concourse '10

Little Maria is gr dam to:

1st 115 miles vs 102 birds Doug Loahr

eq 1st 350 miles Flying Aces OLR '12 Joe Stacey

7th Avg Speed Flying Aces OLR '12 - Joe Stacey

21st 300 mile Gold Band Futurity '13

Direct son of De Favorite & Little Maria.

Double Inbred gr daughter of Thunder & gr daughter Sophia, & Maria.

De Favorite is the best breeding son of Thunder!

De Favorite is sire & gr sire to:

1st Ace Young Bird all Minnesota '10

1st Champion Bird Twin City Concourse '10

1st Champion Bird Twin City Concourse '15

1st Champion Bird MPC '14

1st Champion Bird MPC '13

1st or eq 1st 300mi Twin City Concourse '12/'13/'14

2nd Ace Middel Dist Twin City Concourse '14

3rd Ace Young Bird Twin City Concourse '13

Little Maria is dam to:

1st 300mi Twin City Concourse '11

1st 111mi Twin City Concourse '10

18th Ace Young Bird Twin City Concourse '10

Little Maria is gr dam to:

1st 115 miles vs 102 birds Doug Loahr

eq 1st 350 miles Flying Aces OLR '12 Joe Stacey

7th Avg Speed Flying Aces OLR '12 - Joe Stacey

21st 300 mile Gold Band Futurity '13

Direct son of De Favorite & Little Maria.

Double Inbred gr daughter of Thunder & gr daughter Sophia, & Maria.

De Favorite is the best breeding son of Thunder!

De Favorite is sire & gr sire to:

1st Ace Young Bird all Minnesota '10

1st Champion Bird Twin City Concourse '10

1st Champion Bird Twin City Concourse '15

1st Champion Bird MPC '14

1st Champion Bird MPC '13

1st or eq 1st 300mi Twin City Concourse '12/'13/'14

2nd Ace Middel Dist Twin City Concourse '14

3rd Ace Young Bird Twin City Concourse '13

Little Maria is dam to:

1st 300mi Twin City Concourse '11

1st 111mi Twin City Concourse '10

18th Ace Young Bird Twin City Concourse '10

Little Maria is gr dam to:

1st 115 miles vs 102 birds Doug Loahr

eq 1st 350 miles Flying Aces OLR '12 Joe Stacey

7th Avg Speed Flying Aces OLR '12 - Joe Stacey

21st 300 mile Gold Band Futurity '13

Direct son of De Favorite & Little Maria.

Double Inbred gr daughter of Thunder & gr daughter Sophia, & Maria.

De Favorite is the best breeding son of Thunder!

De Favorite is sire & gr sire to:

1st Ace Young Bird all Minnesota '10

1st Champion Bird Twin City Concourse '10

1st Champion Bird Twin City Concourse '15

1st Champion Bird MPC '14

1st Champion Bird MPC '13

1st or eq 1st 300mi Twin City Concourse '12/'13/'14

2nd Ace Middel Dist Twin City Concourse '14

3rd Ace Young Bird Twin City Concourse '13

Little Maria is dam to:

1st 300mi Twin City Concourse '11

1st 111mi Twin City Concourse '10

18th Ace Young Bird Twin City Concourse '10

Little Maria is gr dam to:

1st 115 miles vs 102 birds Doug Loahr

eq 1st 350 miles Flying Aces OLR '12 Joe Stacey

7th Avg Speed Flying Aces OLR '12 - Joe Stacey

21st 300 mile Gold Band Futurity '13

Direct son of De Favorite & Little Maria.

Double Inbred gr daughter of Thunder & gr daughter Sophia, & Maria.

De Favorite is the best breeding son of Thunder!

De Favorite is sire & gr sire to:

1st Ace Young Bird all Minnesota '10

1st Champion Bird Twin City Concourse '10

1st Champion Bird Twin City Concourse '15

1st Champion Bird MPC '14

1st Champion Bird MPC '13

1st or eq 1st 300mi Twin City Concourse '12/'13/'14

2nd Ace Middel Dist Twin City Concourse '14

3rd Ace Young Bird Twin City Concourse '13

Little Maria is dam to:

1st 300mi Twin City Concourse '11

1st 111mi Twin City Concourse '10

18th Ace Young Bird Twin City Concourse '10

Little Maria is gr dam to:

1st 115 miles vs 102 birds Doug Loahr

eq 1st 350 miles Flying Aces OLR '12 Joe Stacey

7th Avg Speed Flying Aces OLR '12 - Joe Stacey

21st 300 mile Gold Band Futurity '13

Blue Bar W/F Hen

100% John Stoll

Direct daughter of De Favorite & Little Maria.

Double Inbred gr daughter of Thunder & gr daughter Sophia, & Maria.

De Favorite is the best breeding son of Thunder!

De Favorite is sire & gr sire to:

1st Ace Young Bird all Minnesota '10

1st Champion Bird Twin City Concourse '10

1st Champion Bird Twin City Concourse '15

1st Champion Bird MPC '14

1st Champion Bird MPC '13

1st or eq 1st 300mi Twin City Concourse '12/'13/'14

1st 435mi Twin City Concourse '16 54min ahead

2nd Ace Middel Dist Twin City Concourse '14

3rd Ace Young Bird Twin City Concourse '13

Little Maria is dam to:

1st 300mi Twin City Concourse '11

1st 111mi Twin City Concourse '10

18th Ace Young Bird Twin City Concourse '10

Little Maria is gr dam to:

1st 115 miles vs 102 birds Doug Loahr

eq 1st 350 miles Flying Aces OLR '12 Joe Stacey

7th Avg Speed Flying Aces OLR '12 - Joe Stacey

21st 300 mile Gold Band Futurity '13

This is the first 100% Stoll I have posted in a few years. I probably wont be posting to many more as the original Stoll breeders are getting old.

Direct daughter of "De Favorite Ace" & "Young Miss Katoog".
De Favorite Ace won:

1st Ace YB all Minnesota '10

1st Champion Bird Twin City Concourse '10

Young Miss Katoog is dam to:

2nd Ace Young Bird Twin City Concourse '12

3rd Ace Young Bird Twin City Concourse '11

24th Ace Young Bird Twin City Concourse '10